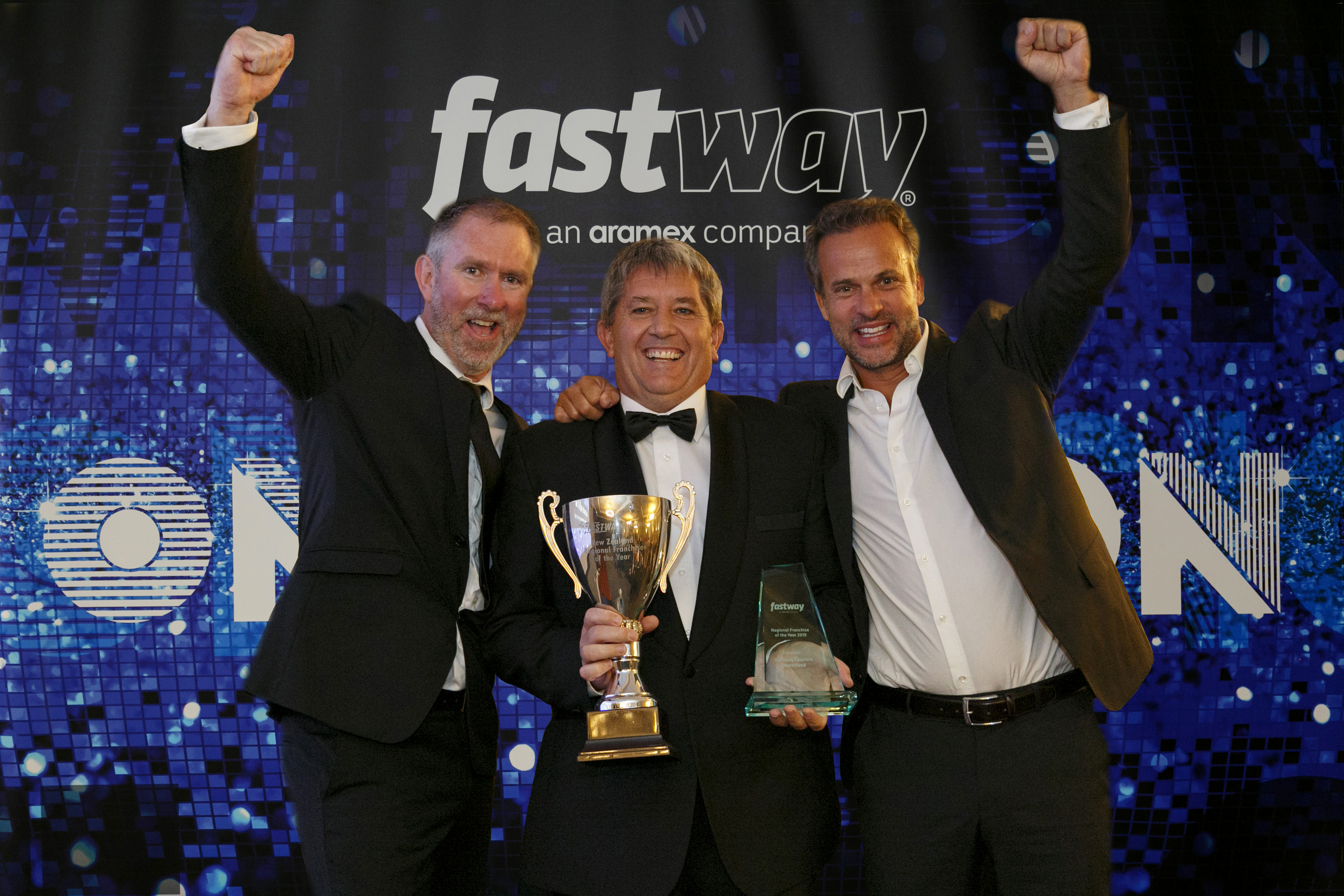 Fastway Couriers CEO- Scott Jenyns, Carl Compaan, Aramex CEO- Andrew Van der Velde
Fastway Couriers Northland takes out Regional Franchisee of the Year in 2019
23/04/2019
Going the extra mile has led Fastway Couriers Northland to being named the best Fastway Couriers Franchise in New Zealand for 2019.

Fastway Northland Regional Franchisee Carl Compaan said his 11 strong team of courier drivers can drive over 300 kilometres a day doing parcel pick-ups and deliveries.
"It's a big territory to cover from Wellsford to Kaitaia, time and space are our biggest challenges, so we definitely do go the extra mile.
"This is a well-deserved win for the Northland team. They all work incredibly hard and are consistently focussed on delighting the customer at the door," Mr Compaan said.
The award was presented at the Fastway Couriers New Zealand conference held in Taupo last weekend.

It was the second time Carl and Rhonda had won the overall award, the last occasion was in 2012. He also won the much-coveted Customer Delight Award in 2018, which is awarded to a team or individual who understands the importance of customer satisfaction.

Fastway Couriers Chief Executive, Scott Jenyns, said Carl and his team epitomised all the values and hallmarks of what it takes to be the best in the competitive courier industry.
"They are dedicated, team focused, think outside of the square, and embrace the values of the business. Carl leads one of the most supportive teams in our network and he is constantly re-evaluating the business, questioning the outcomes and striving to find new ways to increase performance and grow."

"Carl is a strong believer in empowerment and ownership, and he works closely with the Courier Franchisees and staff, holding regular training sessions to not only reinforce the Fastway system at which they excel, but to also introduce new incentives and rewards to imbed the correct processes and build commitment," Mr Jenyns said.
He added that Fastway Northland covers one of the largest geographic territories and is also a strong supporter of their local community.
"They work tirelessly, and I mean that literally, to support local charities and events in their region," Mr Jenyns said.